Check-IN works in close cooperation with public and private entities, actively participating in quality of life improvement activities.
The NGO aims at promoting lifelong learning opportunities, to encourage and promote social integration, education for sustainable development and social entrepreneurship. Check-IN is actively involved and collaborates with various entities in various projects and activities aimed at promoting inclusion.
Check-IN cooperates with Raizes in the development of different activities. The focus is on promoting inclusion mechanisms for children, young adolescents and young adults, especially between the ages of 9 and 25, in central areas for their personal, school, professional and community development, not neglecting the specifics of the socio-economic context of these audiences and their families.
The main objective is to develop projects and activities that seek to minimize and reduce factors of exclusion and social inequalities, according to an approach of a holistic way of working with and for children, young people and their families, enhancing the added value of the relationship with the different generations. accompanying the various children in the key moments of their life in the school context, in family mediation, in professional training and in job support.
This follow-up is achieved through the development of skills in the field of sport, culture, art, recreation, values of environmental sustainability and active citizenship. The results obtained with several young people attending university, others in the job market after completing their vocational training and many others who have returned to school after leaving are undeniable indicators that lead the associations to levels of success recognized by public members and users.
Description of the process
One of the main focuses is that of social and digital inclusion. This digital divide refers not only to lack of access to digital resources but also to digital illiteracy. For this reason are planned different activities, which tend to favor the following aspects: the acquisition of school skills; professional training; identity and better inclusion of participants; training to be agents of change in the face of a problem; digital autonomy and the competent use of information.
Regarding the different methods and activities, we can list, as an example, the following ones:
Support the school's radio activity, where it is contemplated the creation of a space for citizenship, with a view to greater participation and action of the school community in the reflection and resolution of scholastic and/or global problems;
Promotion of academic success and the mobilization of cultural, scientific and technological knowledge to understand reality and deal with everyday situations and problems.
In each situation, problems are analyzed and then there are solutions and practices that can be useful to overcome them. As an example:
A) Problem: Weak personal, social and civic skills that make interpersonal relationships difficult.
B) Good practice/Solution: Informal activities that promote the development of personal, social and civic skills; local actions e inter institutional efforts to improve the security situation in the neighborhood; Initiatives that promote coexistence between cultures; Preventive actions of vandalism, violence and promotion of equality.
A) Problem: Digital exclusion and illiteracy
B) Good practice: Digital literacy actions with a view to developing digital skills; Promote the use of ICT in a way responsible and ethical in the light of digital citizenship; facilitate digital access; temporary assignment of computers or tablets for access, training and consolidation of learning in the field of ICT, as well as the exercise of the right to digital culture.
Similarly, it is possible to turn to the private sector in order to obtain the donation of computers and information equipment, building up a bank of resources which will be available to the various customers, in order to be able to overcome the difficulties in acquiring this resource, and to ensure that, in case of need for isolation, confinement or any other adversity, they will be able to stay connected (On) and socially included.
Values
A) Honesty
This value is the foundation on which to build everything. If a person is joining a community in which honesty is a fundamental value, they feel encouraged to be honest too. Honesty is attractive as it allows the other person to open their heart, share their ideas, getting closer to the other members of the community.
B) Trust
Working in an international context is a unique opportunity. The idea is to create an environment as if we were one big family, where every person who enters knows they can rely on everyone. The people who work here are always available to provide support, to have a chat.
C) Dialogue
Communication plays a key role in every area. Many times, when there are people belonging to different cultures and another language is spoken (for example, English), everything could become more difficult: then, it is easy to fall into misunderstandings. And that's why it is important to underline the fact that dialogue plays a key role, because communication helps different people to meet and understand each other.
D) Kindness

It is key to understand that kindness is essential for our survival as a society. Kindness holds communities together by creating and strengthening relationships among people, therefore helping everyone live harmoniously despite the differences (experiences, backgrounds, etc).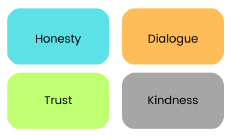 Challenges
The territory of intervention of the project is limited to Ameixoeira (in Lisbon), an area that includes an entire area of resettlement and clandestine housing where multiculturalism emerges. This factor, although it can be enriching, is also a factor of risk and vulnerability: This area has a high concentration of young people characterized by indicators lower than the national average, in terms of education and employment which are aggravated by the poor structure and organization of the community with limited resources. Immigrants and people facing different problems are organized in numerous aggregates and single parents (mother), in overcrowded rented accommodation, with legal situations still to be resolved. They often experience situations of violence and discrimination motivated by racism, showing high demotivation, low self-esteem and an academic self-concept substantiates his educational paths of failure and dropping out of school, and in the search for precarious jobs.
Most empowering aspects
Regarding the most empowering aspects, it is possible to list the following ones:
A) Knowledge Pays
Activity to support and promote study methods that can be organized both online or in person and is carried out with the collaboration of volunteers from different consortium partners. As results of the process to which this activity contributes: enhance the involvement of children, young people and their families in activities that promote educational and training success as well as promoting school success
B) GAP (Psychosocial Monitoring Office)
This is another action that provides individualized care for children, young people and families for psychosocial support and coaching
school and it is performed twice a week. The main objective of this is promoting school success, as well as forwarding to education/training responses
C) + Community
This activity could be seen as a service to the community with a view to providing information and support in resolving social issues.
As result, it wants to promote the reduction of stereotypes (territory, ethnicity, gender, religion, orientation sexual, etc)